OJCS Grade 2 artists have a lot to be proud of! This project challenged their skills, creativity, and comprehension of perspective and texture.
First, we spoke about analogous colours, (colours that are beside each other on the colour wheel and are harmonious when mixed together), and used them to create a fall inspired sunset background.
Then, we drew our squirrels. This artwork was inspired by all of the busy squirrels running around our school, preparing for winter. Drawing a squirrel is not easy! We spoke about the shape of their head and ears and how their eyes are very close to the sides of their heads. We also learned some interesting facts about squirrels while we worked. Did you know that there are 285 different species of squirrels, they can fall up to 30 feet without getting hurt, and their eyes are positioned so that they can see behind them.
We coloured our squirrels using chalk pastels to create implied texture. That means the illusion of texture even though the surface is smooth.
Next came the really fun part… we all went outside to learn about worm's eye perspective or in this case squirrel's eye perspective. We spoke about how objects look different depending on your height and imagined what a tree looks like for a squirrel. We took turns lying under a tree to test this out and saw that the tree looks bigger at the bottom and becomes narrower as it reaches up to the sky.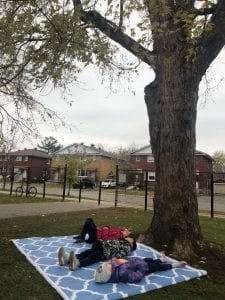 Next we drew our trees from the perspective of a squirrel. We again created implied texture this time with oil pastels for the bark, cut out and glued our squirrels into the scene. 
Here are the results: