Winter is slowly burring us in snow! What better way to teach the element of art: VALUE… snow angels!
This grade 2 lesson began with inspiration from the book, A Perfect Day, by Carin Berger.
We spoke about how we make snow angels and how the snow looks different depending on how deep the angel is. The shadows create different values of colour (lighter or darker colour by adding white to make a tint or black to make a shade). 
Students were given blue and white paint and instructed to paint the whole background, using different values in this case tints (adding white to the blue) to create a snowy landscape with a snow angel silhouette.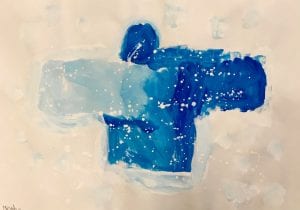 Next students chose from a variety of painted or patterned paper and cut out faces, coats, hats, boots and mittens to collage into the silhouette. Here are the results: