For your next assignment, you can choose from 4 different ideas:
Create a Hand Drawn Poster:
Your poster should contain imagery pertaining to the pandemic (covid-19) and a positive message.
You can use materials of your choice (paint, charcoal, watercolour, markers, coloured pencil, digital art, etc.) Here are some examples from middle school students at the Seoul Foreign School in Korea:
2.  Create a Silhouette Image:
This artwork is inspired by paperboyo (a contemporary artist I follow on Instagram).
He cuts out black silhouettes and holds them up, or tapes them to a window so that they interact with nature or architecture in a funny or interesting way.
Here is some of his work:
Here are some examples from middle school students:
How do you make silhouette art?
-Choose a silhouette, print it or draw it (you can trace over your screen).
-Cut it out (it can be solid black, or a cut-out- like in the image with a quote above which uses negative space).
-Hold it up or secure it to interact with the environment.
-Then take a photo.
Here is mine:
I searched for silhouettes of women sitting, and chose an image I liked. I traced it over the screen of my laptop, and then cut it out of black paper. Then I held it up and then let go and quickly took a photo before it fell.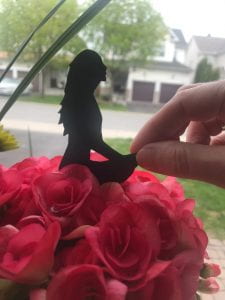 3. Create a Banana Tattoo:
This is really cool. Did you know that when you poke a banana peel, it oxidizes and turns black, (like when cut up apples turn brown) but the banana stays safe inside.
This is a great tutorial of how to make a banana tattoo
This was my result:
Your hand may get tired but it is easy to do…kind of like the first step in carving a pumpkin.
4. Recreate a famous artwork:
This is a movement that has gone viral world-wide. Check out some great examples here.
To get started you need to choose the artwork you want to recreate. Go on a virtual museum visit. The MET, The Getty Museum, or another museum of your choice.
Choose the artwork, recreate it with yourself, family members, pets, objects, or even rolled up clothing. Then take a picture of the original artwork and your recreation. The slide show below has more examples.
All choices are due in 2 weeks: Thursday, June 4, 2020
You may do more than one if you wish. Have fun creating!!!